Air Duct Cleaning Maryland, Washington DC, Northern VA
For a brief introduction to air duct cleaning, more accurately known as HVAC system cleaning, please check out the "Spotlight On Indoor Air Quality" video. This video, entitled "Spotlight on Indoor Air Quality," is appearing on Public Service Television stations throughout the U.S. Click the link below to view our TV commercial and some other great videos about air duct cleaning we have filmed.
Spotlight On Indoor Air Quality
T & D is one of the premier Maryland HVAC cleaning contractors you can trust to properly rid your home of the dust, pollen, bacteria, fungi, mold spores and dust mites that have accumulated in your ventilation system. You will notice a dramatic improvement in your air quality as we eliminate the harmful allergens that can be detrimental to your health. T & D technicians are thoroughly trained and certified in the proper ventilation cleaning techniques for Maryland's commercial and residential structures.
Our customers can expect MORE from T & D than just the cleaning of each duct individually from the grill all the way to the main unit. We cover every aspect of your ventilation system to ensure that it is thoroughly cleaned and the harmful allergens thriving in your HVAC system have been removed. Our Maryland ventilation cleaning services include the removal of your furnace's cover (plenum), allowing us to properly clean the inside of your air handler as well. We also provide superior HVAC coil cleaning to Maryland residents, which will help increase energy efficiency!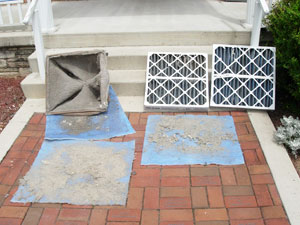 What to expect:
Appointments are prompt
Air duct system is inspected
No dust or dirt left behind in any vent
T&D's technicians are NADCA certified
Vent registers and grills are cleaned
Supply & return ductwork is mechanically cleaned with T&D arsenal of high powered hoses & agitating devices - removing contaminants from your ducts.
High powered vacuum unit is used to remove dust, pollen & all other contaminants
Allergens & contaminants including dust, mold, fungus, bacteria, pet dander and dust mites are removed from your system and captured in our vacuum unit.
Systems and filters are evaluated for performance and recommendations are given to the customer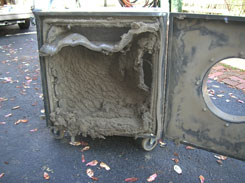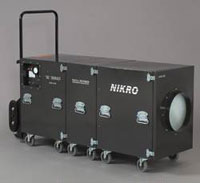 How we clean your HVAC system - Step by Step
(Numbers) in brackets correspond to photos below:
We begin by doing a walk-through with the property owner to map out the location of the vents, and then provide a work plan for the owner to review.
(1, 2 & 3) We will cut an 8 or 12-inch access hole into the main supply and return ducts near the furnace. This hole allows for a thorough system inspection and provides a hook-up point for the high velocity HEPA vacuum.
Did you know?
One out of six people who suffer from allergies do so because of the direct relationship to fungi and bacteria in air duct systems.
(Total Health & Better Health Magazines)
(4) One-inch holes are drilled into the main trunk duct for the insertion of cleaning tools. (5) The furnace filter is blocked and some vents are sealed off to maximize airflow. (6) Each vent cover is removed and air cleaned. An air hose is snaked through each branch duct and high pressure air blasts the debris from the inside surfaces of the duct. The HEPA vacuum pulls the dislodged contaminants into its filtration system. (7) The process is repeated on the return side of the system. (8) The main ductwork is whipped and air washed. (9) The coil, blower, and blower motor are all air washed. (10) The access holes are permanently sealed with patches of heavy-gauge sheet metal and a high temperature foil tape. Drilled holes are plugged and all captured debris is removed from the home.

For spectacular HVAC cleaning services in Maryland, call T & D today to schedule an appointment!